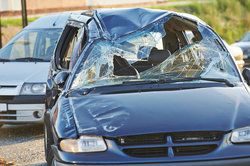 Cell phones can be wonderful devices, giving people access to the entire world in the palms of their hands. They can be particularly advantageous when people find themselves in emergency situations. Unfortunately, when used improperly, they can also be the cause of emergency situations. Despite the fact that the state of California has imposed a ban on drivers using handheld cell phones while operating their vehicles, not to mention the tragic statistics regarding cell phone use and fatal accidents, too many innocent victims are injured in auto accidents caused by drivers using cell phones.
If you are in need of a skilled personal injury attorney experienced in handling cases involving Sacramento auto accidents caused by cell phones, Larry S. Buckley would welcome the opportunity to evaluate your case. You shouldn't have to endure the financial consequences of someone else's negligence, and Larry S. Buckley can make sure that the person responsible for your injuries is held responsible for his or her actions. In doing so, you will also help to send a message to other drivers that illegal and unsafe cell phone use will not be tolerated.
The Link between Cell Phone Usage and Unsafe Driving Is Clear
Many people believe that they are the exceptions to the rule when it comes to driving and using cell phones. However, the link between cell phone usage while driving and fatal auto accidents was made clear in a 2012 study. According to the study, between 2008, when California first prohibited drivers from using handheld cell phones while driving, and 2012, overall traffic deaths declined by 22 percent, while the number of deaths directly blamed on drivers using handheld cell phones dropped 47 percent.
Yet, the number of convictions for cell phone usage increased between 2009 and 2012, per the study. In 2009, 301,833 drivers were convicted for handheld cell phone usage while in 2012, 460,487 drivers were convicted. It is important to note that the fine for a first-time cell phone offense in California is only $20, the lowest of any state in the union. By comparison, the first time a driver is caught using a cell phone while operating a vehicle in Alaska, he or she can receive a fine of up to $10,000 and up to a year in jail.
Damages in Cell Phone Related Accident Cases
If you or a member of your family has been injured in an auto accident caused by another driver's cell phone use, or if you have tragically lost a family member in such an accident, auto accident attorney Larry S. Buckley can help you obtain the full measure of damages to which you are entitled. Depending on the circumstances surrounding your case, these damages may include compensation for:
Hospital and medical bills
Physical therapy and other rehabilitation expenses
Lost wages
Mental anguish
Pain and suffering
Funeral costs (in wrongful death cases)
Future lost wages (in wrongful death cases)
Other applicable losses and expenses
Contact Attorney Larry S. Buckley Today
For further information about cell phone-related auto accident litigation, or to arrange for an evaluation of your case, please contact auto accident lawyer Larry S. Buckley today.