Roseville Personal Injury Attorney
Put Decades of Experience on Your Side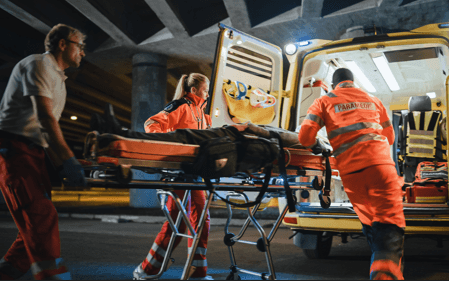 Were you injured in a car crash? Hurt on someone else's property? No matter the cause, an injury is difficult to deal with; a victim's life can change forever. When this happens, you need someone who can help you through the difficult legal process. At the Law Offices of Larry S. Buckley, our Roseville personal injury lawyers have the knowledge, skill, and tenacity to help you get through this trying time and reach a favorable resolution.
Why Hire Our Firm? Consider the Following:
We have decades of combined experience.
We have recovered millions of dollars for the clients we've represented.
We have night, weekend, and home appointments available.
We have 24/7 availability.
If you have been injured, call our firm at (530) 413-0245 to learn more about how our injury attorneys in Roseville can help you recover compensation.
No Fees Unless We Win
Our firm works on a contingency fee basis. This means that we only charge a fee if we are able to successfully recover compensation on your behalf. You also don't have to worry about paying charges upfront or out of your own pocket.
Our payment comes only if and when we are successful on your behalf. The fees come as part of the settlement and we receive a percentage of the total amount. This percentage is agreed upon prior to the handling of the case so you know what to expect at all times.
Free Consultations Available 24/7
We know that during this time, you may have questions that you want to ask. It is important that you get the answers you need. This is why we offer free consultations so you can discuss the details of your potential case with us. We also remain available 24/7 so you can reach out whenever is best for you. We know that injuries can happen at any time, and you shouldn't have to wait to speak with a personal injury attorney in Roseville. We can help you when you need it most.
Our Practice Areas
Personal injury cases often include a wide range of matters. There are so many ways in which a person can sustain an injury, and it is important to know that the personal injury lawyer in Roseville you hire can handle your specific case. Our firm handles various personal injury cases. This means that no matter the cause, we know what it takes to protect your rights.
Our firm can handle cases involving the following:
By focusing on personal injury cases, our team is able to build strategies based off of extensive experience in the field. We are able to focus on our clients' matters with input from our team, giving your case a unique edge.
Serving Injury Victims with Strong Advocacy
At the Law Offices of Larry S. Buckley, we truly care about our clients. Our Roseville personal injury attorneys believe we have a duty to help ease our clients' minds during one of the most difficult times of their lives. Our team is dedicated to helping clients reach the favorable outcome they desire, giving them peace of mind and helping them get through this emotional and stressful time.
Our Roseville Office:
951 Reserve Drive, Suite 100
Roseville, CA 95678