Sacramento Personal Injury Attorneys
Call
(530) 413-0245

Today — Available 24/7

After an injury, it can be daunting to know what steps to take next. With so many factors to consider, attempting the process alone can leave you vulnerable to low-ball offers from insurance companies and strategic tactics from the defense. You need someone on your side who can help you seek justice, especially when the injury is caused by someone else's negligence.

At the Law Offices of Larry S. Buckley, Our Sacramento personal injury attorneys have the skills, knowledge, and experience to help you move through this complex matter with confidence. Backed by a track record of multi-million-dollar case results, we have what it takes to fight your case and win, and we are available around-the-clock to ensure you always have access to your legal team.
How Much is My Case Worth?
Personal injury case settlements range from just a few thousand dollars to million dollar settlements. The state of California does not have set awards for personal injury claims. Instead, an award is given for each particular injury claim based on a wide range of factors. Some of those factors that will be considered are:
How serious the injuries are that have been sustained
Whether or not the victim is able to return to work
Whether any scarring or disfigurement has been sustained
How much pain and suffering resulted
Cases We Handle:
Benefits of working with our Sacramento personal injury attorneys include:
Millions of dollars recovered for past clients
Contingency fees – if we don't win, you don't pay us
Decades of collective experience in your corner
24/7 availability, including weekends and holidays
Ways our Sacramento Injury Attorneys Can Help
Car Accidents
Car accident cases are not as cut-and-dry as filing a claim with the insurance company and waiting for a settlement; especially serious accidents that result in severe injuries.
After an auto collision, you'll be faced with a host of potentially difficult problems, including low-ball settlements from the insurance adjuster, uninsured or underinsured drivers, and potential accusations that you're the one at fault. To ensure you get the full and fair compensation you deserve, it's wise to involve an attorney in the process as soon after the accident as possible. Early intervention will better allow for a full investigation of the accident scene.
It will also ensure your legal representation has time to contact witnesses, gather evidence, and fully prepare your case for trial, should it come to that. Not to mention, the statute of limitations in California requires all injured parties in an auto accident to take legal action within 2 years from the date of the accident, so there's no time to waste!
More:
---
Catastrophic Injuries
Catastrophic injuries are those that so severely harm a victim that his or her life will forever be changed as a result. When an injury is catastrophic, the assumption is that the person will never again be able to experience life as they once knew it, making the impact on the victim's life "catastrophic." Common injuries of this nature include: brain injuries, amputations, permanent disability, disfigurement from burns/scarring, spinal cord injuries, and more.
Because the costs of responding to these injuries are both expensive and lifelong, compensation for victims often totals in the millions or multi-millions of dollars. As such, catastrophic injury cases require extensive investigation, documentation, and evidence to prove the significant loss and consequent costs of dealing with these injuries.
---
Truck Accidents
Whether you call commercial trucks big rigs, semis, tractor-trailers, or 18-wheelers, the Law Offices of Larry S. Buckley can help you file an injury claim after being hit by one.
Trucking companies are notorious for trying to avoid responsibility for accidents caused by their fleet, even when those hurt in the crash are left thousands of dollars in debt due to mounting medical bills and lost wages.
The average truck accident also typically results in a life-changing injury, like a broken bone, brain injury, or spinal cord damage. With so much on the line, you need to know you can trust the legal team representing you.
More:
---
Personal Injury
Personal injury law was designed to protect victims of accidents caused by someone else's act, or failure to act. Per the standards established by the American Bar Association, filing a personal injury lawsuit, or tort lawsuit, is done to seek compensation from the negligent/reckless party to be used for the party that suffered loss.
Compensatory damages in these cases can be used to cover the costs of: immediate medical expenses and/or long-term rehabilitative care, loss of income, loss of property, loss of enjoyment, loss of consortium, pain/suffering, and emotional distress.
In cases involving egregious conduct, damages may also be punitive, with the goal of "punishing" the defendant for his/her actions and, hopefully, preventing similar actions from occurring in the future.
---
Premises Liability
Property owners are legally obligated to keep their grounds safe for visitors, and when they don't, they can be held to the laws of premises liability.
These state that all property owners, businesses, and municipalities must maintain their grounds in such a way that all visitors to the property are free from risk of slipping, falling, or otherwise endangering themselves without proper warning.
However, the caveat to these cases is that the injured party must have been an invitee or licensee; trespassers will find it much more difficult to successfully win a premises liability case
in California.
More:
---
Workers' Compensation
Workers' comp claims are NOT handled the same as a standard personal injury claim. In fact, the outcomes and settlement amounts will look very different. If you were injured on the job, you are legally entitled to workers' compensation coverage from your employer in almost all circumstances, and we can help make sure you get it.
We can also help you appeal a denied claim if needed. Visit one of our five offices located in Chico, Redding, Roseville, Sacramento or Yuba City to learn more.
---
Wildfire Property Damage
For the past couple of years, California has faced some of the deadliest wildfire's in its history, and far too many innocent people have been affected, including some of our very own at the Law Offices of Larry S. Buckley. Given our legal standing in the community, we have a unique opportunity to do something about it, and we humbly extend our services to any/all victims of wildfire property damage in Northern California.
How Contingency Fees Work
Many people who've been injured are hesitant to hire a Sacramento personal injury lawyer; understandably so. After all, the thought of paying an attorney can be daunting when already dealing with the medical, financial, and emotional aftermath of the accident itself. This is why we offer our services on a contingency fee basis. If we do not successfully help you recover compensation, you will owe us nothing for our legal services.
Our attorney fees are dependent on our ability to recover compensation on your behalf. Even then, nothing comes out of your pocket. Before we handle your case, we will agree on a percentage of the total settlement amount to be paid to our team if/when your case is successfully resolved. By this arrangement, you won't have to worry about paying if you don't receive compensation, and you won't have to make payments afterwards if you win.
Why Negligence Matters in Personal Injury Cases
While many people are familiar with the general concept of negligence, fewer understand the importance of this concept when it comes to pursuing a personal injury claim. In California, your eligibility to bring a claim almost always relies on proving that another person or party acted negligently and that this is what led to your injuries and damages.
Showing that someone else was negligent is important, as it points to who was at fault for the incident and, therefore, who is liable for your damages, including your medical bills, lost wages, and pain and suffering. There are very few exceptions to this rule, making negligence a critical component in the vast majority of personal injury claims.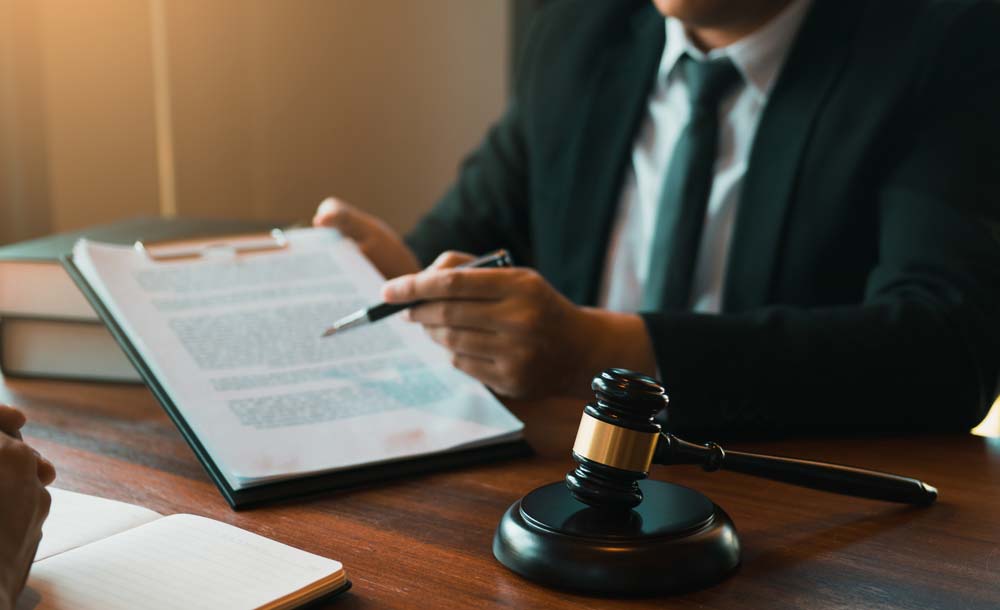 How Our Sacramento Law Firm Can Assist You
At the Law Offices of Larry S. Buckley, we handle a wide range of cases, including auto accidents, motorcycle accidents, truck accidents, bicycle and pedestrian accidents, and more. If you were harmed or lost someone you love as a result of negligent or reckless behavior from a third party, you can and should take legal action. We're here to help you do so successfully.
We handle cases in both state and federal courts, taking on the largest auto manufacturers, insurance providers, trucking companies, and local and state government entities in the process. We know what it takes to win cases for our clients, and we're committed to fighting for the justice they deserve, even in the face of a challenge.
Begin Your Case with a Free Consultation With Our Sacramento Personal Injury Lawyers
If you believe you have a personal injury case, we encourage you to request your free consultation with us. During this time, we can discuss the details of the accident that left you injured, and the damages you suffered as a result. This key information will be drawn upon throughout your case.
With the Law Offices of Larry S. Buckley on your side, you can confidently fight for the compensation you need to reclaim your life after a serious accident has compromised it. You deserve nothing less.
Our Sacramento Office:
2207 J Street
Sacramento
,
CA
95816