Personal Injury Attorney in Chico
Helping Injury Victims Seek Justice After An Accident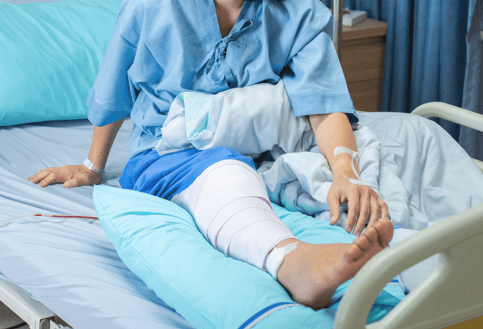 If you have been injured in a negligence-related incident, turn to the Law Offices of Larry S. Buckley. Our top-notch personal injury lawyers in Chico are dedicated to helping individuals navigate the complex legal system after they have sustained serious injuries. We represent clients in both state and federal courts. We make it a point to make sure our clients' best interests are at the top of our priority list.
By hiring our Chico injury lawyers, you can benefit from:
Decades of combined legal experience
24/7 availability when you need us most
Representation that has recovered millions of dollars
Contingency fee counsel — no win, no fee
Call our firm today at (530) 413-0245 to speak with our injury attorneys about your case.
Available 24/7 to Help You
We know that injuries can happen at any time of the day or night, and when they do, you'll need someone you can trust on your side. Because of this, we make ourselves available 24 hours a day, 7 days a week to help our clients. You may have questions or concerns that come up after you've been involved in an injury-causing incident.
We want to make sure you have the answers you need to move forward. You can reach us when you need us most and we'll be available to discuss your case with you. We also make ourselves available for evening, weekend, and home appointments.
Our Areas of Practice
Our team is skilled in a wide range of areas under personal injury law. We understand that injuries can happen in a number of ways and you need someone who has experience in these types of cases. This is exactly what you will find with our firm.
We can handle personal injury cases including, but not limited to:
What Are the Different Types of Damages in Personal Injury Cases?
Most personal injury cases, regardless of the type or cause of the injury, allow victims to recover compensation for the following three types of damages:
Compensatory Damages - These are the damages that have a set monetary value and are intended to compensate victims for out-of-pocket expenses such as: Medical bills, lost income, damaged property, etc.
General Damages - These types of damages are intended to compensate victims for losses that are harder to put a monetary value on, such as: pain and suffering, loss of consortium, loss of enjoyment, etc.
Punitive Damages - Punitive damages are intended to punish the at-fault party for behavior that was particularly reckless or egregious. To receive punitive damages, your attorney will need to prove that the at-fault party acted in such a manner.
What Does a Personal Injury Lawyer Do?
When you have been injured due to the negligence of another, it is important to seek help from a qualified personal injury attorney. A personal injury lawyer in Chico can provide invaluable assistance by helping individuals navigate the complex legal system and fighting for their right to fair compensation. They understand how serious an accident or injury can be and will do everything they can to ensure that victims receive justice and are compensated adequately for their losses.
As your representative in your personal injury case, your injury attorney will be responsible for the following:
Compiling evidence and building your case against the insurance company or individual responsible for your injuries
Investigating incident details fully to ensure all liable parties are identified and pursued accordingly
Deposing or questioning the at-fault party to gather evidence that supports your claim
Filing motions or any paperwork with the court to ensure your case continues to move forward in a timely manner
Preparing documents such as settlement agreements, complaints, briefs, contracts etc., as needed during the course of litigation
Communicating with the insurance company on your behalf to negotiate a fair settlement
Keeping you informed about the legal process, where your case stands, and what your options are
Helping personal injury victims understand their rights and any applicable laws that may apply to their case
Representing you in court if the insurance company is unwilling to offer a fair settlement outside of court
Assisting personal injury clients through every step of the legal process
When you hire an injury lawyer from the Law Office of Larry S. Buckley, you ensure that you are on an equal playing field with the insurance company that you are going up against. Our team will do whatever it takes to obtain fair compensation on your behalf.
How Can A Car Accident Attorney In Chico Help Me?
An attorney can help you maximize your compensation amount after a car accident in several ways:
A car accident attorney can negotiate with the insurance company on your behalf to get you the best possible settlement.
A car accident attorney can file a lawsuit against the at-fault driver if necessary.
A car accident attorney can help you recover damages for your injuries and other losses.
A car accident attorney can help you recover punitive damages if the at-fault driver was grossly negligent.
A car accident attorney can help you recover lost wages if you have been unable to work because of your injuries.
A car accident attorney can help you recover the costs associated with your medical treatment.
Are you interested in learning more about what we can do to help maximize compensation for you or a loved one after a car accident? Contact our car accident attorneys in Chico today to schedule a free consultation.
Proven Team — Successful Results
With so much on the line in a personal injury case, you need a firm on your side that is proven and has had successful results in the past. At our firm, we not only have the knowledge to handle these types of cases, but we have proven to have the necessary resources to build a strong case strategy on behalf of our clients. We have access to vocational experts, accident reconstruction experts, and medical specialists.
The Law Offices of Larry S. Buckley has been able to successfully handle cases that have secured some of the largest personal injury settlements in the state, some totaling tens of millions of dollars. This is a testament to our dedication to reaching the most favorable outcome possible for our clients. Our team is here for you every step of the way.
What Is California's Statute of Limitations on Personal Injury Claims?
Every state has its own set of laws governing how long after your accident you may file a personal injury lawsuit. In California, injury victims are permitted to file a claim for up to 2 years after the date of their injury. If you wait too long to file your injury claim, you may lose the right to pursue compensation at all. Don't delay! Contact our team of expert injury attorneys today to get started.
Schedule Your Free Consultation Today
If you have sustained a serious injury due to someone else's negligence, you deserve justice. Speak with our team of Chico personal injury attorneys in a free consultation and we can explain your rights and options moving forward, giving you an idea of what to expect throughout the process.
Our Chico Office:
1660 Humboldt Road, Suite 5
Chico, CA 95928
We aim to protect your rights after an injury and seek compensation for the damages you have sustained. Call our Chico personal injury lawyers today: (530) 413-0245 or reach out to us online.