Chico Motorcycle Accident Attorneys
Trust Us with Your Motorcycle Accident Claim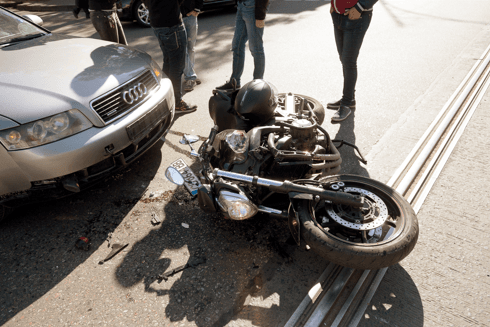 Motorcycle riders often feel like they have very limited options after getting into a wreck, especially when it is caused by another motorist. Insurance companies that represent the driver will surely blame the rider. In some cases, the rider's own insurer will be hesitant to help them, too, because it is easier to not spend resources on defending the rider.
At the Law Offices of Larry S. Buckley in Chico, we proudly represent injured motorcyclists who need powerful legal help in the face of difficult odds. We believe that every motorist, including riders, deserves a fair chance to get full compensation. When an insurance company or stubborn defendant interferes with that process, we are ready to rise to the occasion.
Why do riders choose our law firm so often?
We have 24/7 availability because accidents happen all the time.
We have recovered millions of dollars in compensation for our clients.
We focus entirely on personal injury claims and lawsuits.
We have an award-winning team of attorneys on staff.
On This Page:
Get real legal fighters on your side after a motorcycle accident in Chico. Call (530) 413-0245.
Motorcycle Accident Causes
You are probably a careful, attentive motorcycle rider. Unfortunately, the drivers who share the road with you aren't always doing their best to drive safely. All it takes is for one driver to make one mistake, and the result can be an accident that leaves you seriously injured.
When you hire us to be your motorcycle accident attorneys in Chico, part of our role will be to investigate the cause of your accident. No matter what caused the wreck, we are confident that we know how to build your case and represent you.
A few common causes of motorcycle accidents include:
Drivers who turn left in front of oncoming motorcycles.
Drivers who open their doors in front of motorcyclists.
Drivers who tailgate behind motorcycles, which come to a complete stop much quicker.
Drivers who fail to check blind spots and mirrors before changing lanes or merging.
Motorcycle manufacturers that use defective parts.
Roads with severe damage like potholes or cracks in the asphalt.
Determining Liability
Once we know the cause of the motorcycle accident, we can start to work on how to prove it. In personal injury claims, someone is "liable" when they are to blame or at fault for an accident. We want to prove that the other party is the one who is liable for it and that they owe you compensation for what they did.
The best way to determine and prove liability is to use tangible evidence and strong arguments. Evidence that we might be able to use to your case's advantage can include helmet cam footage, police reports, eyewitness testimonies, traffic cam data, and more. Even your medical records that show the type and severity of your injuries can be used as proof that builds the validity of your claim.
When there isn't enough strong evidence to begin with, we can conduct an investigation to locate more. We can also work with expert accident reconstructionists to piece back together every small detail of the motorcycle accident.
Common Injuries in Motorcycle Accidents
Motorcycles do not provide their riders any heightened protection in a crash. For this reason, a motorcycle accident that happens at almost any speed can result in terrible injuries suffered by the rider. Our law firm is familiar with the catastrophic injuries commonly suffered by our motorcycle accident clients and how to use that knowledge to further their claims.
Catastrophic injuries that can happen in a motorcycle accident include:
Brain injury
Neck or back injury
Road rash
Amputation
Internal organ damage
Paralysis
What Damages Can You Recover After a Motorcycle Accident?
If you were seriously injured in a motorcycle accident, then it is likely that you will suffer serious financial losses as well. Treating something like a back injury can leave you in the hospital for a while, for example, and then require months or years of physical therapy to treat. The cost of these treatments alone can be enough to drain your savings account.
We can fight for every penny of compensation that you are owed, no matter how much that might be. When a single insurance policy held by the liable party won't be enough to cover your losses, our motorcycle accident lawyers in Chico know where to look for other policies that are applicable. Our goal is to help you recover as much as possible while making sure your financial situation remains stable now and far into the future.
The compensation owed can help you pay for:
Medical bills and treatments
Future rehabilitative therapies
Past and future lost income
Motorcycle repair costs
Pain and suffering
Reduced enjoyment of life
What California Motorcycle Laws Should You Know?
The motorcycle laws that apply to riders in California can come into play when building your motorcycle accident claim. If you were violating the law when the crash happened, then your claim's chances could be hurt. On the other hand, if we can prove that the driver who hit you was violating the law or the rules of the road, then it could help your case.
Three important California motorcycle laws are:
Helmet use: California requires all riders and passengers on a motorcycle to wear a helmet whenever the vehicle is in operation. Failing to wear a helmet can result in a ticket, but it can also damage your claim. The defendant could argue that you knowingly accepted the risk of a head injury by not wearing a helmet, and then try to avoid paying any compensation related to such an injury.
Lane-splitting: California is the only state that has officially legalized lane-splitting, which is riding a motorcycle in between occupied lanes of traffic. A motorist who intentionally blocks a lane-splitting rider or makes it more difficult to lane-split is violating the law. Were you hit while lane-splitting on a highway in Chico? Let us know by dialing

(530) 413-0245

!
License requirements: You must obtain a motorcycle license to ride a motorcycle or another two-wheeled and motorized vehicle while in California. The state accepts such licenses from other states, too.
How Much Does a Motorcycle Accident Lawyer Cost?
You might be worried about the cost of hiring a good motorcycle accident attorney. Please don't be! At the Law Offices of Larry S. Buckley, we proudly offer contingency fee agreements for injury claims and lawsuits.
Under a contingency agreement, you can retain our services without paying anything upfront. We only get paid if we end your case with a settlement or award in your favor. The payment is also a percentage of that settlement or award, so we are never paid more than you can afford. In this way, hiring a motorcycle injury attorney is highly affordable for everyone.
Hire Our Chico Motorcycle Accident Lawyers Today
We know motorcycle accidents can happen at any time, so why wait to get legal counsel? We accept phone calls to
(530) 413-0245
at any hour of the day, any day of the week.
Reach out to us at your first opportunity. First consultations for motorcycle accident clients are always free!