Chico Truck Accident Attorney
Honest & Efficient Legal Counsel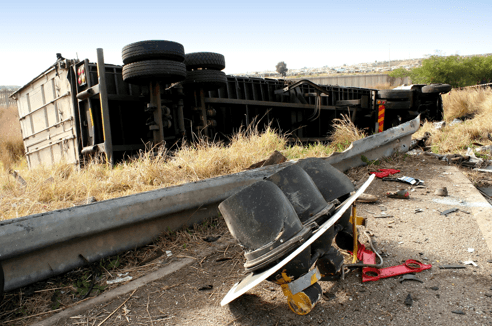 The outcome of the average truck accident is worse-than-average injuries suffered by people in the smaller vehicle. If a commercial truck or big rig crashed into you, and now you are dealing with the aftermath of your injuries, it is time to consider your legal options to receive fair compensation. The Law Offices of Larry S. Buckley in Chico can help.
We have built our law firm to provide the utmost convenience to our clients, no matter what life throws at them. You can depend on us to manage all aspects of your truck accident claim as if we were representing ourselves. From investigating your accident and calculating your damages to filing a claim and negotiating a settlement, we do it all!
Get an award-winning team of truck accident lawyers in Chico, CA on your side today. Call (530) 413-0245.
What to Do After a Truck Accident
The steps that you take right after a truck accident are important. Indeed, in many of the truck accident cases that we have handled in the past, some of the best evidence we could use to build the case came from the scene of the crash and right after it happened.
Let our truck accident attorneys in Chico know if you were able to do these steps after your truck accident:
Call 911: In California, if a motor vehicle accident causes an injury or severely damages a vehicle, then emergency responders must be notified immediately. The paramedics, police officers, and firefighters who arrive can provide life-saving assistance, but they will also create useful reports to use as evidence of liability later.
Exchange information: Your truck accident claim will struggle to get off the ground if you do not file against the correct party or parties. You need to exchange contact and insurance information with the truck driver who hit you. Make a note of who was employing them at the time, too. Also, exchange contact information with any eyewitnesses who stop to help.
Take photographs: Using your smartphone to take pictures of the crash can get you the best tangible evidence of what happened. The more pictures you take, the better. Pictures of vehicle damage, injuries, tire marks, traffic, and weather conditions are all useful.
See a doctor: You should see a medical professional immediately after leaving the scene of a truck accident, assuming you were not taken to the hospital in an ambulance. A doctor can provide an accurate diagnosis of your injuries and potentially catch injuries you might not feel right away. Your case will also be stronger if your medical record has been updated on the day of the accident to describe your injuries and how they happened.
How Do Truck Accidents Differ from Car Accidents?
The average truck accident case is unlike the average car accident case in a few ways. Although the differences might not be obvious at first, they can make a big difference in how the case unfolds and how strong it stands up to the opposition. To feel confident about your case's chances, you need to work with a legal team that understands these differences as well as we do.
Unique or special considerations for truck accident cases include:
Worse injuries: All accidents have the potential to cause catastrophic injuries, but truck accidents have a higher-than-average risk. The massive size and weight of a commercial truck will strike a smaller vehicle with a tremendous amount of force, which is more likely to cause a severe injury.
Higher damages: With worse injuries come higher total damages incurred by the claimant. You will need more medical treatments, lose more time off work, experience worse pain, and so on. When higher damages are on the line, the resistance from the liable party will be even stronger than before.
Liable employers: The legal rule of respondeat superior allows an employer to be held liable for the mistakes of their employees in some situations. If the truck driver who hit you was an employee for a trucking company, then we might be able to name that company as a defendant as well.
Federal regulations: The Federal Motor Carrier Safety Administration (FMCSA) has a long list of regulations that truck drivers and trucking companies must follow. Failing to comply with these regulations can put others in serious danger of a crash, and it can put much or all of the liability on the defendant.
How Do You Choose a Truck Accident Lawyer?
Choosing the right truck accident attorney for your case is a big decision. So how do you go about ensuring you make the right choice? We recommend you take into account the following factors when making your decision:
How experienced the attorney is with handling truck accident cases and dealing with trucking companies
How well your attorney will communicate with you during the process
Their track record when it comes to successfully winning compensation for their truck accident clients
Proven trial experience
How comfortable you feel discussing your accident and your case with them
How your attorney will be paid
At the Law Office of Larry S. Buckley, our team of attorneys have recovered tens of millions of dollars on behalf of our clients. From accident reconstruction experts to medical specialists, we have the resources to ensure you receive maximum compensation for your injuries. We offer 24-hour phone service and can be reached at any time of day or night. Finally, all of our clients pay us on contingency. That means if we don't recover compensation on your behalf, you don't have to pay us for our efforts.
Choose Us Today to Get Your Case Rolling
Taking on a trucking company and demanding compensation after an accident is no easy feat. But you can prepare for anything with the professional assistance, counsel, and representation of our Chico truck accident lawyers. Every dollar is worth it, so we do not slow down until we secure them all.