Chico Car Accident Attorneys
Representation After a Wreck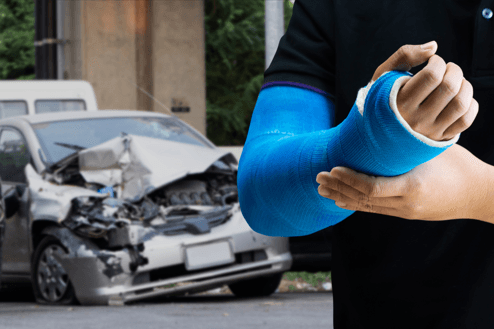 ​The Law Offices of Larry S. Buckley is proud to be one of the first choices among drivers in Chico who get into a car accident. If you have been in a wreck that wasn't your fault, then you should reach out to us, too. Our personal injury firm is always standing by to help new and returning clients in need, so don't hesitate to contact us the moment you want legal counsel for a car accident claim.
On This Page:
Common Causes of Car Accidents
​We can investigate car accident cases of all types. No matter what caused your wreck, we know how to approach the situation and look for the evidence that will help prove that you shouldn't be the one to blame for it.
Common causes of car accidents in Chico include:
Reckless driving like speeding
Intoxicated driving
Texting while driving
Distracted driving
Poor roadway maintenance
Vehicle defects
How Do You Determine Liability in a Car Accident Claim?
With the evidence that we collect, we can prove that you did not cause the crash. What evidence can help your case, though? It will depend on the circumstances of the wreck, where it occurred, who witnessed it, and more. Leave all evidence collection and review up to us, so you can continue to focus on yourself and your recovery.
Different types of evidence that can help build your claim include:
Police reports
Eyewitness testimonies
Driving records
Dashcam footage
Common Injuries After an Accident
Our car accident attorneys in Chico can network with medical professionals to get a good understanding of your injuries. By knowing the extent of your injuries and how they are limiting your day-to-day life, we can better calculate the damages that are owed to you. Although we can work on all sorts of car accident cases, we focus our practice on catastrophic and severe injury cases that have changed the lives of our clients for the worse.
Common yet severe injuries caused by car accidents can include:
Traumatic brain injuries (TBIs)
Spinal cord injuries
Paralysis
Broken bones
Burn injuries
Permanent scarring
What Types of Damages You Can Recover After an Accident?
You should be completely compensated for any losses and damages that you have suffered due to the car accident. The driver who hit you and the insurance company that represents them will most likely disagree. It isn't personal, it is business. The insurer doesn't want to give you a dollar more than necessary.
To bring a fair fight for the compensation that you deserve, team up with our Chico car accident lawyers. We can carefully calculate the full amount of compensation that you should be paid, and then pursue every last penny of that amount in your name.
Damages that we might be able to pursue in your claim can be:
Past and future medical costs
Lost income and wages
Vehicle repair costs
Pain, suffering, and trauma
How Does the Car Accident Claims Process Work?
No matter how much time you have spent as a driver, you might not be prepared for the car accident claims process if you haven't been in a bad accident before. Managing the claims process correctly is important because a little mistake during it could cause problems later. For comprehensive guidance, you should put us in charge of your claim.
After a car accident, you should do the following:
Call 911 if someone has been seriously injured.
Collect contact and insurance information from the other drivers.
Get other types of evidence like photographs and testimonies.
Go to the doctor if you were not taken to the ER.
Call our law firm at

(530) 413-0245

.
When we are working on your car accident claim, we can then notify your insurance company about the accident. If someone was injured or a vehicle was badly damaged, then you will also need to notify the California Department of Motor Vehicles (DMV) within 10 days or else risk the suspension of your driver's license. At this point, we can help you navigate the claim with your insurance company while also building your car accident claim.
Don't Wait – Schedule a Free Case Evaluation Now
At the Law Offices of Larry S. Buckley, initial consultations are always free. You can learn more about filing and pursuing a car accident claim after a wreck without needing to pay anything upfront. With our contingency fee agreements, you won't owe us any attorney fees unless we end your case with a settlement or award in your favor, too. This system makes it simple and highly affordable to get our car accident lawyers in Chico on your side.
For more information about our legal servicesor to get started with your car accident injury claim, please call (530) 413-0245 now.