Sacramento Premises Liability Lawyers
What to Do If You Were Injured on Someone Else's Property
California property owners have a responsibility to ensure that their premises are properly maintained and reasonably safe for visitors. When they fail to address, repair, or warn of dangerous conditions, innocent victims can get seriously hurt. When this happens, victims are entitled to seek financial compensation for the damages they have suffered as a result of the property owner's negligence. This is known as a premises liability claim, and filing one can help you secure compensation for your medical bills, lost wages, pain, suffering, and other damages.
Call Us Now | Message Us | Blog
If you slipped and fell, were attacked by a dog, or otherwise harmed due to unsafe conditions on someone else's property, whether public or private, the Law Offices of Larry S. Buckley can help. Our Sacramento premises liability attorneys understand the complexities involved in these types of cases and are prepared to fight tirelessly for you and your recovery.
Call us at (530) 413-0245 or submit an online contact form today to request a free initial consultation. We are available 24/7 to take your call.
What Is a Dangerous Condition?
A "dangerous condition" is any condition that poses a foreseeable threat to others, meaning one could reasonably expect someone else to become injured by the condition or because of its existence.
Examples of dangerous property conditions include:
Wet or slippery floors
Icy ground/floors
Uneven or crumbling stairs
Unmarked steps
Uneven floors
Torn or ripped carpeting
Cluttered aisles/walkways
Un-fenced swimming pools
Loose dogs
Potholes
Lack of handrails
Inadequate lighting
Improper signage
Defective awnings and overhangs
Poor property maintenance
This is not an exhaustive list; there are many other examples of defective, dangerous, and unsafe property conditions, all of which can cause serious bodily injury or even death.
Proving a Premises Liability Case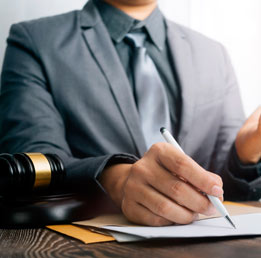 In order to bring a claim against a property owner, you must be able to show that the property owner was somehow negligent and that this led to your injuries/damages. This can be tricky, depending on the situation. While commercial business owners and those who own and maintain public spaces, such as parks, owe a duty of care to the general public, private property owners and residential land owners only owe a duty of care to those who are lawfully on the property. That being said, California attractive nuisance laws require property owners to take reasonable measures to fix foreseeable hazards that could harm anyone who enters the property, whether they are trespassing or not.
In order to establish that a property owner was negligent, you must prove that they knew of or reasonably should have known of the dangerous condition but did not take proper, reasonable steps to repair or address it. Failure to maintain a property is also a form of negligence. You must then show that, as a result of the property owner's failure to repair/address the dangerous condition, you were injured and suffered measurable damages. "Measurable damages" refers to both the economic and non-economic losses you sustained as a result of your injuries, such as medical bills, lost wages, emotional distress, pain and suffering, etc.
Request a Free Consultation Today
If you slipped and fell on a wet floor in a retail store, tripped on broken stairs and were injured at an apartment complex, were bitten by a loose dog, or were otherwise injured as a result of a property owner's negligence, contact the Law Offices of Larry S. Buckley today for a free consultation with one of our Sacramento premises liability lawyers. We can help you understand your legal options and fight for the full recovery you are owed.
Get in touch by calling (530) 413-0245 or by filling out and submitting an online contact form.