Workers' compensation offers many benefits to employees who suffer work-related injuries and illnesses. What many people don't realize is that workers' compensation is also available for injuries related to the mouth, teeth, and jaw.
Common work-related dental injuries include:
Loose teeth
Chipped teeth
Dislodged teeth
Broken jaw
Stress-related teeth grinding
Temporo Mandibular Joint Disorder
What to Do If You Hurt Your Teeth at Work
If you suffer a dental injury while on the clock, then you need to tell your employer about it as soon as possible, as you would for any other workplace injury. You should also expect to see a dentist who you have not seen before because many dentists aren't included in a workers' compensation program. Rather than seeing your usual dentist, you might be required to see a new one included in your employer's insurance network.
You might also be first sent to the hospital or an urgent care facility for your other injuries. While there, you should inform the medical staff that you have also suffered a dental injury, such as a chipped, broken, or missing tooth. They can make a record of your injury, which helps validate future dental treatments you might later seek through provided workers' compensation benefits. Otherwise, your claim for dental work could be rejected if the first mention of your dental injuries occurs weeks after your accident.
Let's go more into the details of some of these steps now.
Your Injury
If you suffer an oral injury at work, it's important to seek medical care immediately. Many hospitals lack the resources to treat dental injuries, so it's important to call a dentist if the option is available. If you have to wait for treatment, make sure the hospital or dental office documents that your oral injury is work-related. You don't want your employer's insurance company to deny you coverage based on an administrative technicality.
Unfortunately, insurance companies often fight workers' compensation claims, especially when it comes to dental injuries. You're going to need a workers' compensation attorney to represent your case and help you file the claim. Dental injury claims, in particular, can be tricky because dentists often find other oral problems while treating work-related injuries. In fact, it's not uncommon for work-related injuries to exacerbate other medical conditions.
The Question of Treatment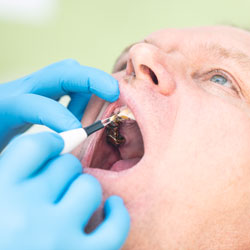 Occasionally, the other medical complications need to be addressed before the work-related injury can be successfully treated. This puts insurance companies in a difficult position, particularly since many dentists aren't familiar with the workers' compensation process. A dentist will not allow harm to come to their patient just to expedite the process for an insurance company. However, this doesn't mean than an insurance company is responsible for unrelated treatments.
Pick the Right Dentist
Before making an appointment or receiving emergency care, it's important to ask the dental office if they have experience with workers' compensation cases. An experienced dentist can develop a treatment plan based solely on your work-related injury. This simplifies the overall claims process for the insurance company, thereby ensuring that you receive the medical care and benefits you require.
Hire the Right Lawyer
Contact the Law Offices of Larry S. Buckley if you're ready to file a workers' compensation claim. If your employer's insurance company denies your claim, our Northern California workers' compensation attorneys can represent your case and fight for your benefits. Keep in mind that there is a statute of limitations for workers' compensation claims, so explore your legal options by contacting our firm today!
Call our Northern California workers' compensation lawyers today at (530) 413-0245. We have offices in Chico, Roseville, Sacramento, and Redding.